Peugeot 2008: Lighting and visibility / Automatic windscreen wipers
In AUTO mode, the windscreen wipers operate automatically, without any action on the part of the driver. If rain is detected, the wiping adapts to the intensity of the rainfall automatically.
Detection of rainfall is by means of a rain/sunshine sensor at the top centre of the windscreen, behind the rear view mirror.

Do not cover the rain/sunshine sensor.
When using an automatic car wash, switch off the automatic wipers and the ignition.
In winter, wait until the windscreen is completely clear of ice before activating the automatic wipers.
Switching on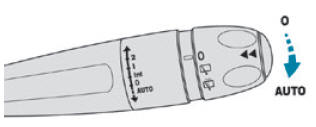 Give a short downwards push to the control stalk.
A wiping cycle confirms that the instruction has been accepted.
This indicator lamp comes on in the instrument panel, accompanied by a message.
Switching off
Give the control stalk another brief push downwards or place the control stalk in another position (Int, 1 or 2).

This indicator lamp goes off in the instrument panel, accompanied by a message.

If the ignition has been off for more than one minute, the automatic wipers must be reactivated by pushing the control stalk downwards.
Malfunction
If a fault occurs with the automatic wipers, the wipers will operate in intermittent mode.
Have them checked by a PEUGEOT dealer or a qualified workshop.
Removing/refitting at the front Carry out these wiper blade replacement operations from the driver's side. Starting with the wiper blade farthest from you, hold each arm by the rigid section and raise it as far as possible...
Other information:
The regulations on carrying children are specific to each country. Refer to the legislation in force in your country. For maximum safety, please observe the following recommendations: In accordance with European regulations, all children under the age of 12 or less than 4 ft 11" (150 cm) tall must travel in approved child seats suited to their weight, on seats fitted with a seat belt or..
Bench seat with fixed cushions and split folding backrests (2/3-1/3) to adapt the boot load space. Rear head restraints They have two positions: A high position, for when the seat is in use: Pull the head restraint fully up. A low position, for stowing, when the seat is not in use: Press the lug A to release the head restraint and push it down. The rear head restraints can be ..