Peugeot 2008: Lighting and visibility / Automatic windscreen wipers
In AUTO mode, the windscreen wipers operate automatically, without any action on the part of the driver. If rain is detected, the wiping adapts to the intensity of the rainfall automatically.
Detection of rainfall is by means of a rain/sunshine sensor at the top centre of the windscreen, behind the rear view mirror.

Do not cover the rain/sunshine sensor.
When using an automatic car wash, switch off the automatic wipers and the ignition.
In winter, wait until the windscreen is completely clear of ice before activating the automatic wipers.
Switching on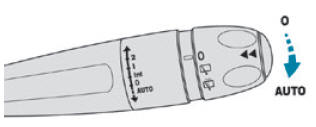 Give a short downwards push to the control stalk.
A wiping cycle confirms that the instruction has been accepted.
This indicator lamp comes on in the instrument panel, accompanied by a message.
Switching off
Give the control stalk another brief push downwards or place the control stalk in another position (Int, 1 or 2).

This indicator lamp goes off in the instrument panel, accompanied by a message.

If the ignition has been off for more than one minute, the automatic wipers must be reactivated by pushing the control stalk downwards.
Malfunction
If a fault occurs with the automatic wipers, the wipers will operate in intermittent mode.
Have them checked by a PEUGEOT dealer or a qualified workshop.
Removing/refitting at the front Carry out these wiper blade replacement operations from the driver's side. Starting with the wiper blade farthest from you, hold each arm by the rigid section and raise it as far as possible...
Other information:
This system automatically checks the pressures of the tyres while driving. It compares the information given by the wheel speed sensors with reference values, which must be reinitialised every time the tyre pressures are adjusted or a wheel changed. The system triggers an alert as soon as it detects a drop in the inflation pressure of one or more tyres. Under-inflation detection does not repl..
This head-up 3D digital instrument panel can be customised. Depending on the display mode selected, certain information is hidden or presented differently. Example with the "DIALS" display mode: Fuel gauge (Petrol or Diesel)Charge level indicator (Electric) Remaining range (miles or km) Cruise control/speed limiter settingsDisplay of speed limit signs Digital speedometer (mph or km/h..