Peugeot 2008: Ease of use and comfort / Boot fittings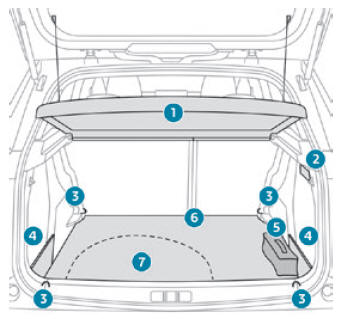 Load space cover
Boot lamp
Stowing rings
Open storage wells
Tool kit (depending on equipment)
Boot carpet or 2-position boot floor
Storage well

The stowing rings are designed to secure luggage using different types of retaining nets.
These retaining nets are available as an accessory.
For more information, contact a PEUGEOT dealer.
2-position boot floor
This two-position floor allows the boot volume to be optimised using the lateral stops located on the sides:
High position (100 kg max.): to obtain a flat floor up to the front seats, when the rear seats are folded down.
Low position (150 kg max.): maximum boot volume.

On certain versions, the adjustable boot floor cannot be fitted in the low position.
To change the height:
Lift and pull the floor towards you using its central handle, then use the lateral stops to move it.
Push the floor all the way forwards to place it in the desired position.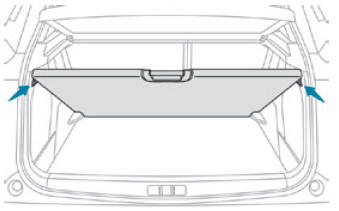 To keep it in the inclined position:
From the high position, lift the floor towards the load space cover.
Take it past the retractable stops, then rest the floor on these stops.
Storage well
Fully raise the boot carpet to access the storage well.
Depending on version, it includes:
A temporary puncture repair kit with the tool kit.
A spare wheel with the tool kit.
Boot lamp
It comes on automatically when the boot is opened and goes off automatically when the boot is closed.
The lighting time varies according to the circumstances:
when the ignition is off, approximately 10 minutes.
in energy economy mode, approximately 30 seconds.
with the engine running, unlimited.
Interior ambience lighting The interior ambient lighting casts soft, coloured lighting in the passenger compartment, both day and night. You can activate/deactivate this function, adjust the brightness and select a colour in the Driving/Vehicle touch screen menu...
Other information:
Guide-me-home lighting Automatic With the ring in the "AUTO" position, when the light is poor, the dipped beam headlamps come on automatically when the ignition is switched off. You can activate/deactivate this function and adjust the guide-me-home lighting duration in the Driving / Vehicle touch screen menu. Manual With the ignition off, pull the lighting control stalk toward you (..
The following information groups together the answers to the most frequently asked questions concerning the system. Radio The reception quality of the tuned radio station gradually deteriorates or the station presets are not working (no sound, 87.5 MHz is displayed, etc.). The vehicle is too far from the selected station's transmitter, or no transmitter is present in the geographical area. ..