Peugeot 2008: Safety / Deactivating the front passenger airbag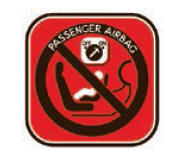 Passenger airbag OFF

For your child's safety, the front passenger airbag MUST be deactivated when a "rearward facing" child seat is installed on the front passenger seat.
Otherwise, the child would be exposed to the risk of death or serious injury in the event of airbag deployment.

Vehicles not equipped with a deactivation/reactivation control
Installing a "rearward facing" child seat on the front passenger seat is strictly prohibited
risk of death or serious injury in the event of airbag deployment!
Deactivating/Reactivating the front passenger airbag
For vehicles on which it is fitted, the control is located on the side of the glove box.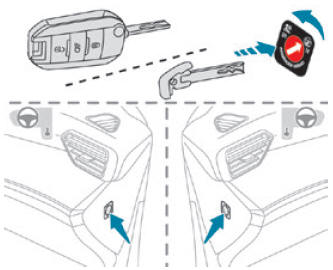 With the ignition off:
To deactivate the airbag, turn the key in the switch to the "OFF" position.
To reactivate it, turn the key to the "ON" position.
When the ignition is switched on:

This warning lamp comes on and remains lit to signal the deactivation.
Or

This warning lamp comes on for about 1 minute to signal the activation.
Recommended child seats
Range of recommended child seats secured using a three-point seat belt.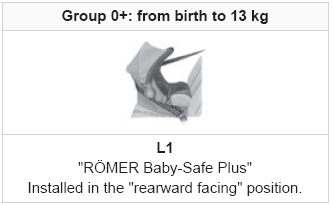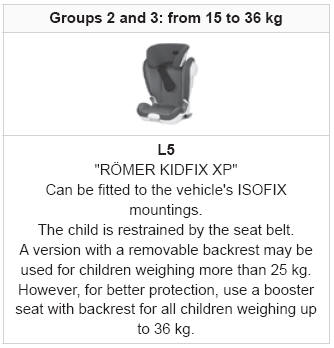 ISOFIX child seats The seats shown below are fitted with ISOFIX compliant mountings: * Depending on version. The mountings comprise three rings for each seat, indicated by a marking: Two rings A, located between the vehicle seat backrest and cushion...
Other information:
Key ignition switch It has 3 positions: 1. Stop: inserting and removing the key, steering column locked. 2. Ignition: steering column unlocked, ignition on, Diesel preheating, engine running. 3. Starting. Avoid attaching heavy objects to the key or the remote control...
Refer to the General recommendations on the use of driving and manoeuvring aids and to Cruise control - particular recommendations. This system automatically maintains the speed of your vehicle at a value which you set (speed setting), while keeping a safe distance from the vehicle in front (target vehicle), and which has been set beforehand by the driver...
Categories
Load distribution
Distribute the load in the trailer so that the heaviest items are as close as possible to the axle, and the nose weight approaches the maximum permitted without exceeding it.
Air density decreases with altitude, thus reducing engine performance. The maximum towable load must be reduced by 10% per 1,000 metres of altitude.

Use genuine towing devices and their wiring harnesses approved by PEUGEOT. We recommend having them fitted by a PEUGEOT dealer or a qualified workshop.