Peugeot 2008: Practical information / Misfuel prevention (Diesel)
(Depending on country of sale.)
This mechanical device prevents filling the tank of a Diesel vehicle with petrol.
Located in the filler neck, the misfuel prevention device appears when the filler cap is removed.
Operation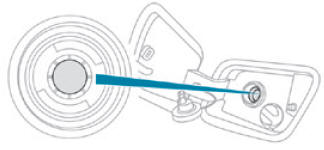 When a petrol filler nozzle is inserted into the fuel filler neck of a Diesel vehicle, it comes into contact with the flap. The system remains closed and prevents filling.
Do not persist but introduce a Diesel type filler nozzle.

It remains possible to use a fuel jerrycan to fill the tank.

Travelling abroad
As Diesel fuel pump nozzles may be different in other countries, the presence of the misfuel prevention device may make refuelling impossible.
Before travelling abroad, it is advisable to check with a PEUGEOT dealer if the vehicle is suitable for the distribution equipment of the countries visited.
Categories
Load distribution
Distribute the load in the trailer so that the heaviest items are as close as possible to the axle, and the nose weight approaches the maximum permitted without exceeding it.
Air density decreases with altitude, thus reducing engine performance. The maximum towable load must be reduced by 10% per 1,000 metres of altitude.

Use genuine towing devices and their wiring harnesses approved by PEUGEOT. We recommend having them fitted by a PEUGEOT dealer or a qualified workshop.