Peugeot 2008: Ease of use and comfort / Front demisting - defrosting. Heated windscreen
Front demisting - defrosting
Automatic Visibility programme
This mode allows the windscreen and side windows to be demisted or defrosted as quickly as possible.
Press this button to activate/deactivate the mode (confirmed by the illumination/extinction of the indicator lamp).
The programme automatically manages the air conditioning (depending on version), air flow and air intake, and provides optimum distribution towards the windscreen and side windows.
It is possible to manually change the air flow without deactivating the automatic Visibility programme.

With Stop & Start, when demisting has been activated, STOP mode is not available.

In wintry conditions, remove all snow or ice on the windscreen near the camera before moving off.
Otherwise, the operation of the equipment associated with the camera may be affected.
Heated windscreen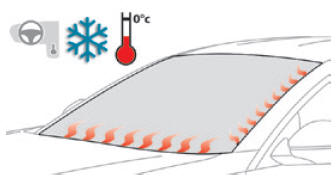 In cold weather, this system heats the bottom of the windscreen, as well as the area alongside the left-hand windscreen pillar.
Without changing the settings for the air conditioning system, it allows faster release of the windscreen wiper blades when they are frozen to the windscreen and helps avoid the accumulation of snow resulting from the operation of the windscreen wipers.
On/Off

With the engine running, press this button to activate/deactivate the function (confirmed by an indicator lamp).
The function is activated when the exterior temperature drops below 0°C. It is deactivated automatically when the engine is switched off.