Peugeot 2008: Ease of use and comfort / Heating and Ventilation
Air intake
The air circulating in the passenger compartment is filtered and originates either from the exterior, via the grille located at the base of the windscreen, or from the inside in air recirculation mode.
Controls
Depending on version, the controls are accessible in the "Air conditioning" touch screen menu or are grouped together in the control panel on the centre console.
Air distribution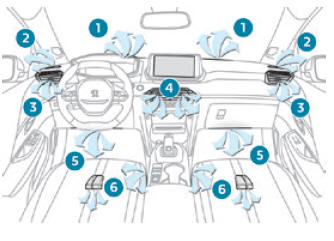 Windscreen demisting/defrosting vents
Front side window demisting/defrosting vents
Adjustable and closable side air vents
Adjustable and closable central air vents
Air outlets to the front footwells
Air outlets to the rear footwells (depending on version)
Advice

Using the ventilation and air conditioning system
To ensure that air is distributed evenly, keep the external air intake grilles at the base of the windscreen, the nozzles, the vents, the air outlets and the air extractor in the boot free from obstructions.
Do not cover the sunshine sensor located on the dashboard; this sensor is used to regulate the automatic air conditioning system.
Operate the air conditioning system for at least 5 to 10 minutes once or twice a month to keep it in perfect working order.
If the system does not produce cold air, switch it off and contact a PEUGEOT dealer or a qualified workshop.
When towing the maximum load on a steep gradient in high temperatures, switching off the air conditioning increases the available engine power, enhancing the towing capacity.

Avoid driving for too long with the ventilation off or with prolonged operation of interior air recirculation. Risk of misting and deterioration of the air quality!

If the interior temperature is very high after the vehicle has stood for a long time in the sunshine, air the passenger compartment for a few moments.
Put the air flow control at a setting high enough to quickly change the air in the passenger compartment.
Condensation created by the air conditioning results in a discharge of water underneath the vehicle. This is perfectly normal.

Servicing the ventilation and air conditioning system
Ensure that the passenger compartment filter is in good condition and have the filter elements replaced regularly.
We recommend using a composite passenger compartment filter. Thanks to its special active additive, this type of filter helps to purify the air breathed by the occupants and keep the passenger compartment clean (by reducing allergic symptoms, unpleasant odours and greasy deposits).
To ensure correct operation of the air conditioning system, have it checked according to the recommendations in the Maintenance and Warranty Guide.

Stop & Start
The heating and air conditioning systems only operate when the engine is running.
Temporarily deactivate the Stop & Start system to maintain a comfortable temperature in the passenger compartment.
For more information on the Stop & Start, refer to the corresponding section.

ECO driving mode
Selecting this mode reduces electrical energy consumption, but restricts the performance of the heating and air conditioning systems, although it does not deactivate them.