Peugeot 2008: Child lock / Manual child lock

The system prevents a rear door from being opened using its interior handle.
The red control is located on the edge of each rear door (marked by a label).
Locking / Unlocking

To lock, turn the red control as far as it will go using the integral key:

To the right on the left-hand rear door.
To the left on the right-hand rear door.

To unlock, turn it in the opposite direction.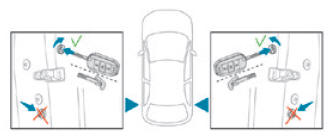 Do not confuse the child lock control, which is red, with the back-up locking control, which is black.
Depending on version, this system prevents the opening of the rear doors using their interior handles and/or the use of the rear electric window controls...
Other information:
The number and type of driving modes available depend on the vehicle's engine and equipment. Driving modes are selected using the following control: Pressing the control displays the modes on the instrument panel. With an electric motor, you cannot select a mode if the READY lamp is off...
Refer to the General recommendations on the use of driving and manoeuvring aids. Using a camera located at the top of the windscreen to identify lane markings on the road and at the edges of the road (depending on version), the system corrects the trajectory of the vehicle while alerting the driver if it detects a risk of unintentionally crossing a line or hard shoulder (depending on version)...