Peugeot 2008: Child lock / Manual child lock

The system prevents a rear door from being opened using its interior handle.
The red control is located on the edge of each rear door (marked by a label).
Locking / Unlocking

To lock, turn the red control as far as it will go using the integral key:

To the right on the left-hand rear door.
To the left on the right-hand rear door.

To unlock, turn it in the opposite direction.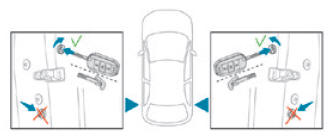 Do not confuse the child lock control, which is red, with the back-up locking control, which is black.
Depending on version, this system prevents the opening of the rear doors using their interior handles and/or the use of the rear electric window controls...
Other information:
This special patented traction control system improves grip on snow, mud and sand. For optimum grip on snow, it is recommended that you fit the vehicle with winter tyres. For optimum system performance, contact a PEUGEOT dealer for advice on the right tyre fitting...
Engaging 5th or 6th gear Move the gear selector fully to the right to engage 5th or 6th gear. Failure to follow this instruction could cause permanent damage to the gearbox (inadvertent engagement of 3rd or 4th gear). Engaging reverse gear Raise the ring under the knob and move the gear selector to the left, then forwards...