Peugeot 2008: Driving / Manual parking brake
Release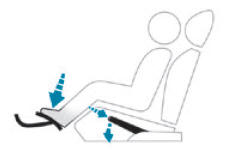 Pull the parking brake lever up slightly, press the release button, then lower the lever fully.

When driving the vehicle, if this warning lamp and the STOP warning lamp come on, accompanied by an audible signal and the display of a message, this means that the parking brake is still applied or has not been fully released.
Application
Pull the parking brake lever up to immobilise the vehicle.
When parking on a slope, turn the wheels against the kerb, apply the parking brake, engage a gear and switch off the ignition.
Categories
Load distribution
Distribute the load in the trailer so that the heaviest items are as close as possible to the axle, and the nose weight approaches the maximum permitted without exceeding it.
Air density decreases with altitude, thus reducing engine performance. The maximum towable load must be reduced by 10% per 1,000 metres of altitude.

Use genuine towing devices and their wiring harnesses approved by PEUGEOT. We recommend having them fitted by a PEUGEOT dealer or a qualified workshop.
Copyright © 2023 www.pe2008.net