Peugeot 2008: Remote control / Key / Remote control function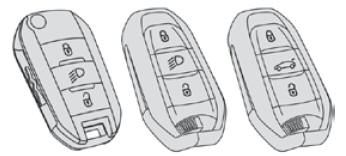 The remote control can be used for the following remote functions, depending on version:
Unlocking / Locking / Deadlocking the vehicle.
Unlocking / Locking the boot.
Remote operation of lighting.
Folding / Unfolding the door mirrors.
Activating / Deactivating the alarm.
Locating the vehicle.
Opening / Closing the windows.
Activating the vehicle's electronic immobiliser.
Back-up procedures allow the vehicle to be locked / unlocked in the event of a failure of the remote control, the central locking, the battery, etc. For more information on the Back-up procedures, please refer to the corresponding section.
The key built into the remote control can be used for the following operations, depending on version: Unlocking/Locking/Deadlocking the vehicle. Activation/Deactivation of the manual child lock...
Other information:
Choice of a destination To a new destination Intuitive method: Press Navigation to display the main page. Press "Search…". Enter an address or the key words for the destination. Press "OK" to select the "Guidance criteria". Or Guided method: In order to be able to use the navigation, you must enter the "City", the "Street" (suggestions are displayed automatically when you begin typing)..
(Depending on country of sale.) This mechanical device prevents filling the tank of a Diesel vehicle with petrol. Located in the filler neck, the misfuel prevention device appears when the filler cap is removed. Operation When a petrol filler nozzle is inserted into the fuel filler neck of a Diesel vehicle, it comes into contact with the flap. The system remains closed and prevents filling. D..
Categories
Load distribution
Distribute the load in the trailer so that the heaviest items are as close as possible to the axle, and the nose weight approaches the maximum permitted without exceeding it.
Air density decreases with altitude, thus reducing engine performance. The maximum towable load must be reduced by 10% per 1,000 metres of altitude.

Use genuine towing devices and their wiring harnesses approved by PEUGEOT. We recommend having them fitted by a PEUGEOT dealer or a qualified workshop.