Peugeot 2008: Remote control / Key / Remote control function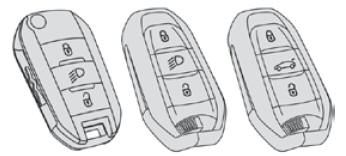 The remote control can be used for the following remote functions, depending on version:
Unlocking / Locking / Deadlocking the vehicle.
Unlocking / Locking the boot.
Remote operation of lighting.
Folding / Unfolding the door mirrors.
Activating / Deactivating the alarm.
Locating the vehicle.
Opening / Closing the windows.
Activating the vehicle's electronic immobiliser.
Back-up procedures allow the vehicle to be locked / unlocked in the event of a failure of the remote control, the central locking, the battery, etc. For more information on the Back-up procedures, please refer to the corresponding section.
The key built into the remote control can be used for the following operations, depending on version: Unlocking/Locking/Deadlocking the vehicle. Activation/Deactivation of the manual child lock...
Other information:
The drive selector is a pulse selector with a regenerative braking function. The drive selector provides traction control based on the driving style, the road profile and the vehicle load. With regenerative braking activated, it also manages engine braking when the accelerator pedal is released...
The Stop & Start function puts the engine temporarily into standby - STOP mode - during phases when the vehicle is stopped (red lights, queues, etc.). The engine restarts automatically - START mode - as soon as the driver wishes to move off again...
Categories
Load distribution
Distribute the load in the trailer so that the heaviest items are as close as possible to the axle, and the nose weight approaches the maximum permitted without exceeding it.
Air density decreases with altitude, thus reducing engine performance. The maximum towable load must be reduced by 10% per 1,000 metres of altitude.

Use genuine towing devices and their wiring harnesses approved by PEUGEOT. We recommend having them fitted by a PEUGEOT dealer or a qualified workshop.