Peugeot 2008: In the event of a breakdown / Changing a fuse
Accessing the tools
The extraction tweezers are located behind the fusebox cover.
Depending on version:
Unclip the cover by pulling at the top left, then right.
Remove the cover completely.
Take the tweezers from their housing.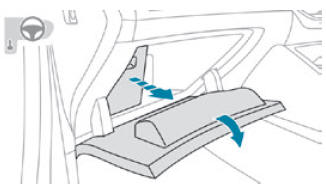 Open the glove box.
Press on the central handle of the fusebox cover.
Lower the cover completely.
Take the tweezers from their housing.
Changing a fuse
Before changing a fuse:
Identify the cause of the fault and fix it.
Switch off all power consumption.
Immobilise the vehicle and switch off the ignition.
Identify the defective fuse using the current allocation tables and diagrams.
To replace a fuse, it is essential to:
Use the special tweezers to extract the fuse from its housing and check the condition of its filament.
Always replace the failed fuse with a fuse of the same rating (same colour); use of a different rating may cause malfunctions - risk of fire!
If the fault recurs soon after replacing a fuse, have the electrical system checked by a PEUGEOT dealer or a qualified workshop.

The fuse allocation tables and the corresponding diagrams are available from a PEUGEOT dealer or from a qualified workshop.

The replacement of a fuse not shown in the allocation tables may cause a serious malfunction of the vehicle. Contact a PEUGEOT dealer or a qualified workshop.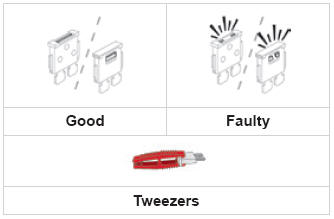 Installing electrical accessories
The vehicle's electrical system is designed to operate with standard or optional equipment.
Before fitting other electrical equipment or accessories to your vehicle, contact a PEUGEOT dealer or a qualified workshop.

PEUGEOT accepts no responsibility for the cost incurred in repairing the vehicle or for rectifying malfunctions resulting from the installation of accessories not supplied or not recommended by PEUGEOT and not installed in accordance with its recommendations, in particular when the combined power consumption of all of the additional equipment connected exceeds 10 milliamperes.
Fuses in the dashboard
The fusebox is located in the lower dashboard (left-hand side).
To access the fuses, follow the same procedure as described for accessing the fuse replacement tools.
Fuse tables
Lower fusebox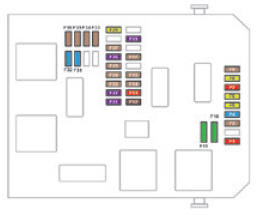 Upper fusebox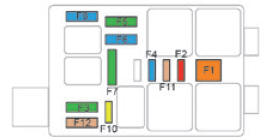 Engine compartment fuses
The fusebox is placed in the engine compartment near the battery.
Accessing the fuses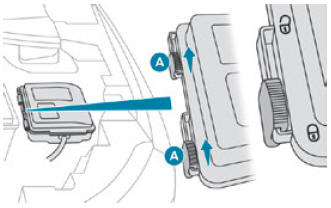 Fuse table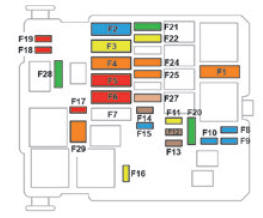 Release the two latches A.
Remove the cover.
Replace the fuse.
When you have finished, close the cover carefully, then engage the two latches A to ensure that the fusebox is properly sealed.