Peugeot 2008: Ease of use and comfort / PEUGEOT i-Cockpit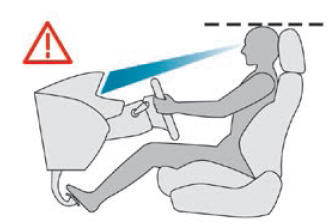 Before taking to the road and to make the most of the ergonomic layout of the PEUGEOT i-Cockpit, carry out these adjustments in the following order:
head restraint height.
seat backrest angle.
seat cushion height.
longitudinal seat position.
steering wheel reach and then height.
rear view mirror and door mirrors.

Once these adjustments have been made, check that the "head-up" instrument panel can be viewed correctly over the smaller diameter steering wheel.

Before moving the seat backwards, ensure that there is no person or object that might prevent the full travel of the seat.
There is a risk of trapping or pinching passengers if present in the rear seats or of jamming the seat if large objects are placed on the floor behind the seat.
Front head restraints Height adjustment Upwards: pull the head restraint up to the desired position; the head restraint can be felt to click into position...
Other information:
In automatic mode, this system applies the parking brake when the engine is switched off and releases it when the vehicle moves off. At any time, with the engine running: to apply the parking brake, briefly pull the control lever; to release it, briefly push the control lever while pressing the brake pedal...
Air intake The air circulating in the passenger compartment is filtered and originates either from the exterior, via the grille located at the base of the windscreen, or from the inside in air recirculation mode. Controls Depending on version, the controls are accessible in the "Air conditioning" touch screen menu or are grouped together in the control panel on the centre console...