Peugeot 2008: Practical information / Roof bars

As a safety measure and to avoid damaging the roof, it is essential to use the transverse bars approved for the vehicle.
Observe the instructions on fitting and use contained in the guide supplied with the roof bars.

Maximum load distributed over the roof bars, for a loading height not exceeding 40 cm: 70 kg.
As this value may change, please verify the maximum load quoted in the guide supplied with the roof bars.
If the height exceeds 40 cm, adapt the speed of the vehicle to the profile of the road to avoid damaging the roof bars and the fixings on the vehicle.
Be sure to refer to national legislation in order to comply with the regulations for transporting objects that are longer than the vehicle.

Recommendations
Distribute the load uniformly, taking care to avoid overloading one of the sides.
Arrange the heaviest part of the load as close as possible to the roof.
Secure the load securely.
Drive gently: the vehicle will be more susceptible to the effects of side winds and its stability may be affected.
Regularly check the security and tight fastening of the roof bars, at least before each trip.
Remove the roof bars once they are no longer needed.

Sunroof
Check that the load does not pass below the roof bars so that it does not impede the movements of the sunroof - risk of major damage!
Fitting on longitudinal bars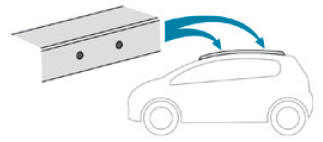 The transverse bars must be fixed at the engraved markings on the longitudinal bars.
Fitting directly to the roof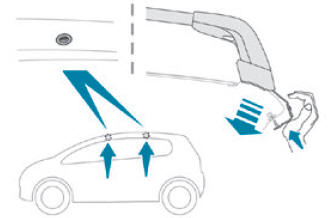 You must only attach the transverse bars to the four fixing points located on the roof frame.
These points are concealed by the vehicle doors when the doors are closed.
The roof bar fixings have a stud which must be inserted into the opening of each fixing point.
Presentation This genuine towing device can be fitted and removed with no need for tools. Carrier Protective plug Connection socket Safety eye Detachable towball Locking/unlocking wheel Security key lock Label to note the key references Locked position (the green marks are opposite each other); the wheel is in contact with the towball (no gap)...
In wintry conditions, snow chains improve traction as well as the behaviour of the vehicle when braking. The snow chains must be fitted only to the front wheels...
Other information:
Fuel tank capacity: approximately 44 litres (Petrol) or 41 litres (Diesel). Reserve level: approximately 5 litres. Low fuel level When the low fuel level is reached, this warning lamp comes on on the instrument panel, accompanied by an onscreen message and an audible signal...
GPS navigation - Applications - Multimedia audio system - Bluetooth® telephone The functions and settings described vary according to the vehicle version and configuration, as well as the country of sale. For safety reasons and because they require sustained attention by the driver, the following operations must be carried out with the vehicle stationary and the ignition on: Pairing the..