Peugeot 2008: Overview / Electric motor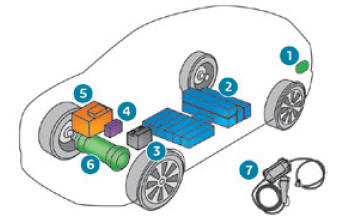 Charging connectors
Traction battery
Accessory battery
Heat pump
On-board charger
Electric motor
Charging cable with integrated control unit
The charging connectors 1 enable 3 types of charging:
Domestic charging, via a mains power socket and the supplied cable 7.
Accelerated charging, using a Wallbox accelerated charging unit and the corresponding cable.
Fast charging, using a fast public charger and the corresponding cable.
The 400 V traction battery 2 uses Lithium-Ion technology. It stores and subsequently supplies electric energy to power the electric motor, heating and air conditioning systems. Its charge level is represented by bars on a gauge, and there is a reserve power warning lamp on the instrument panel.
The 12 V accessory battery 3 powers the vehicle's conventional electrical system. It is used to start the electric motor. This battery is automatically recharged by the traction battery.
The heat pump 4 provides passenger compartment heating and regulates traction battery and on-board charger cooling.
The on-board charger 5 manages traction battery domestic and accelerated charging.
The electric motor 6 provides motive power, based on the selected driving mode and the driving conditions. It recovers energy during vehicle braking and deceleration phases.
These illustrations and descriptions are intended as a guide. The presence and location of certain elements may vary, depending on the version or trim level...
Eco-driving refers to a range of everyday practices that allow the motorist to optimise their energy consumption (fuel and/or electricity) and CO2 emissions...
Other information:
The servicing information is expressed in terms of distance (kilometres or miles) and time (months or days). The alert is given at whichever of these two terms is reached first. The servicing information is displayed in the instrument panel. Depending on the version of the vehicle: The distance recorder display line indicates the distance remaining before the next service is due, or the dist..
The sunroof consists of a movable glass panel that slides over the roof and a blind that can be opened independently. Opening the sunroof automatically opens the blind. To operate the panoramic sunroof, use the button in the roof console. The sunroof can be operated when the ignition is turned on (if the battery is charged enough), with the engine running, in STOP mode of Stop & Start, ..