Peugeot 2008: Overview / Electric motor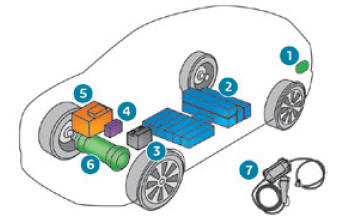 Charging connectors
Traction battery
Accessory battery
Heat pump
On-board charger
Electric motor
Charging cable with integrated control unit
The charging connectors 1 enable 3 types of charging:
Domestic charging, via a mains power socket and the supplied cable 7.
Accelerated charging, using a Wallbox accelerated charging unit and the corresponding cable.
Fast charging, using a fast public charger and the corresponding cable.
The 400 V traction battery 2 uses Lithium-Ion technology. It stores and subsequently supplies electric energy to power the electric motor, heating and air conditioning systems. Its charge level is represented by bars on a gauge, and there is a reserve power warning lamp on the instrument panel.
The 12 V accessory battery 3 powers the vehicle's conventional electrical system. It is used to start the electric motor. This battery is automatically recharged by the traction battery.
The heat pump 4 provides passenger compartment heating and regulates traction battery and on-board charger cooling.
The on-board charger 5 manages traction battery domestic and accelerated charging.
The electric motor 6 provides motive power, based on the selected driving mode and the driving conditions. It recovers energy during vehicle braking and deceleration phases.