Peugeot 2008: Practical information / Very cold climate screen
(Depending on country of sale.)
This removable protective screen prevents the accumulation of snow at the radiator cooling fan.
It consists of a first element for the upper part of the front grille and a second element for the lower part.

For fitting / removing, it is recommended that you contact a PEUGEOT dealer or a qualified workshop.

Before any operation, ensure that the engine is off and the cooling fan has stopped.

It is essential to remove them when:
the exterior temperature exceeds 10°C.
towing.
the speed is above 75 mph (120 km/h).
Fitting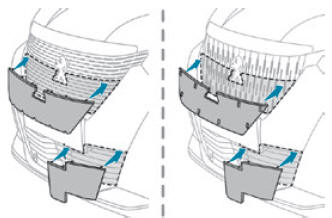 Hold the side screen in front of the lower left grille of the bumper.
First insert the lower fixing brackets into the bumper.
Tilt the side screen upwards until the side and then upper fixing brackets click into the bumper.
Check that the unit is firmly held by pressing around the edges.
Repeat the same process to fit the central screen into the upper grille of the bumper.
Removing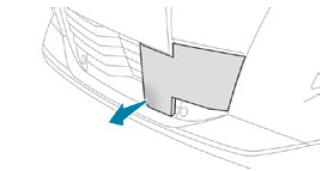 For the side screen
Insert a finger into the notch in the lower part of the side screen.
Pull towards you to unclip the unit.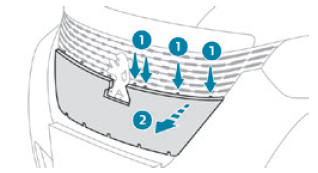 For the central screen with horizontal grille
Press the upper fixing brackets to release them from the grille.
Gently tilt the central screen downwards.
Pull towards you to unclip the unit.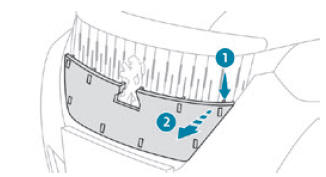 For the central screen with vertical grille
Insert a flat screwdriver into the holes to reach the upper fixing brackets of the central screen.
Press on each upper fixing bracket in turn to release them from the grille.
Pull towards you to unclip the unit.
In wintry conditions, snow chains improve traction as well as the behaviour of the vehicle when braking. The snow chains must be fitted only to the front wheels...
This system manages the duration of use of certain functions, in order to conserve a sufficient level of charge in the battery with the ignition off. After switching off the engine, you can still use functions such as the audio and telematic system, the wipers and the dipped beam headlamps or courtesy lamps, for a combined duration of approximately 40 minutes...
Other information:
With the engine running, a press mutes the sound. With the ignition off, a press turns the system on. Increase or decrease the volume using the wheel or the "plus" or "minus" buttons (depending on the equipment). Use the menu buttons on either side of or below the touch screen for access to the menus, then press the virtual buttons in the touch screen...
Choice of a destination To a new destination Intuitive method: Press Navigation to display the main page. Press "Search…". Enter an address or the key words for the destination. Press "OK" to select the "Guidance criteria". Or Guided method: In order to be able to use the navigation, you must enter the "City", the "Street" (suggestions are displayed automatically when you begin typing)..