Peugeot 2008: Driving / 6-speed manual gearbox
Engaging 5th or 6th gear
Move the gear selector fully to the right to engage 5th or 6th gear.

Failure to follow this instruction could cause permanent damage to the gearbox (inadvertent engagement of 3rd or 4th gear).
Engaging reverse gear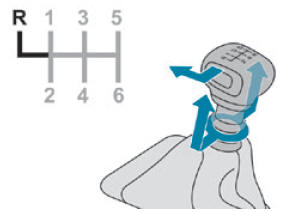 Raise the ring under the knob and move the gear selector to the left, then forwards.

Only engage reverse gear when the vehicle is stationary with the engine at idle.

As a safety precaution and to facilitate starting the engine:
Always select neutral.
Press the clutch pedal.
Categories
This system manages the duration of use of certain functions, in order to conserve a sufficient level of charge in the battery with the ignition off.
After switching off the engine, you can still use functions such as the audio and telematic system, the wipers and the dipped beam headlamps or courtesy lamps, for a combined duration of approximately 40 minutes.
Selecting the mode
A confirmation message is displayed when energy economy mode is entered, and the active functions are placed on standby.

If a telephone call is in progress at the time, it will be maintained for around 10 minutes via the audio system's hands-free system.