Peugeot 2008: Practical information / Bonnet

Stop & Start
Before doing anything under the bonnet, you must switch off the ignition to avoid any risk of injury resulting from an automatic change to START mode.


The location of the interior bonnet release lever prevents opening the bonnet when the left-hand front door is closed.

When the engine is hot, handle the exterior safety catch and the bonnet stay with care (risk of burns), using the protected area.
When the bonnet is open, take care not to damage the safety catch.
Do not open the bonnet under very windy conditions.

Cooling of the engine when stopped
The engine cooling fan may start after the engine has been switched off.
Take care with objects or clothing that could be caught in the blades of the fan!
Opening
Open the left-hand front door.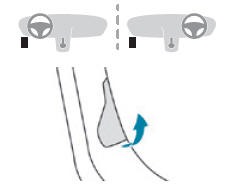 Pull the interior release lever, located at the bottom of the door frame, towards you.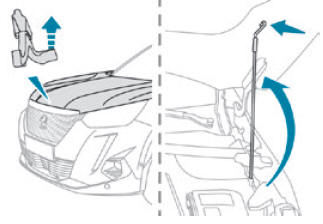 Lift the exterior safety catch and raise the bonnet.
Unclip the stay from its housing and place it in the support slot to hold the bonnet open.
Closing
Hold the bonnet and pull out the stay from the support slot.
Clip the stay in its housing.
Lower the bonnet and release it near the end of its travel.
Pull on the bonnet to check that it is locked correctly.

Because of the presence of electrical equipment under the bonnet, it is strongly recommended that exposure to water (rain, washing, etc.) be limited.
This system manages the duration of use of certain functions, in order to conserve a sufficient level of charge in the battery with the ignition off. After switching off the engine, you can still use functions such as the audio and telematic system, the wipers and the dipped beam headlamps or courtesy lamps, for a combined duration of approximately 40 minutes...
The engine shown here is an example for illustrative purposes only. The locations of the following elements may vary: Air filter. Engine oil dipstick...
Other information:
Refer to the General recommendations on the use of driving and manoeuvring aids and to Cruise control - particular recommendations. This system automatically maintains the speed of your vehicle at a value which you set (speed setting), while keeping a safe distance from the vehicle in front (target vehicle), and which has been set beforehand by the driver...
Set of tools supplied with the vehicle. Its content depends on your vehicle's equipment: Temporary puncture repair kit. Spare wheel. Access to the tools Depending on version, the tool kit is stored in a bag or in a storage box in the boot. On the boot carpet or floor Under the boot carpet or floor Raise the boot floor (depending on version), then the boot carpet by pulling the strap to ..