Peugeot 2008: Indicators / Power indicator (Electric)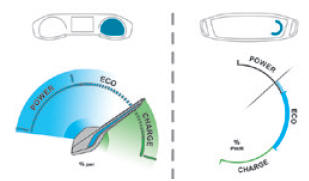 CHARGE
Traction battery charging during deceleration and braking.
ECO
Moderate energy consumption and optimised driving range.
POWER
Energy consumption by the drive train during acceleration.
NEUTRAL
On switching on the ignition, your vehicle's electric drive train neither consumes nor generates energy: after sweeping over the indicator, the needle or the cursor returns to its "neutral" position.

With the ignition off, opening the driver's door activates the indicator, which moves to the "neutral" position.
Categories
Load distribution
Distribute the load in the trailer so that the heaviest items are as close as possible to the axle, and the nose weight approaches the maximum permitted without exceeding it.
Air density decreases with altitude, thus reducing engine performance. The maximum towable load must be reduced by 10% per 1,000 metres of altitude.

Use genuine towing devices and their wiring harnesses approved by PEUGEOT. We recommend having them fitted by a PEUGEOT dealer or a qualified workshop.