Peugeot 2008: Technical data / Identification markings
Various visible markings for the identification and research of your vehicle.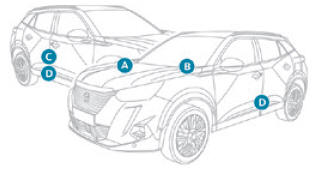 Vehicle identification number (VIN), under the bonnet.

Stamped on the chassis.

Vehicle identification number (VIN), on the dashboard.

On a label, visible through the windscreen.

Manufacturer's label.

Fixed at the right-hand door.

Bears the following information:

Manufacturer's name.
European whole vehicle type approval number.
Vehicle identification number (VIN).
Gross vehicle weight (GVW).
Gross train weight (GTW).
Maximum weight on the front axle.
Maximum weight on the rear axle.

Tyres / paint code label.
Fixed at the driver-side door.
Bears the following information about the tyres:
tyre pressures, unladen and laden.
tyre specification, made up of the dimensions and type as well as the load and speed indices.
spare tyre inflation pressure.
Also indicates the paint colour code.

The vehicle may be originally equipped with tyres with higher load and speed indices than those indicated on the label, without affecting tyre pressure (on cold tyres).
Multimedia audio system - Applications - Bluetooth® telephone The functions and settings described vary according to the vehicle version and configuration, as well as the country of sale...
Other information:
When the ring is in the "AUTO" position, this system automatically switches between dipped and main beam headlamps according to the lighting and traffic conditions, using a camera located at the top of the windscreen. This system is a driving aid...
Observe the driving regulations and remain vigilant whatever the traffic conditions. Monitor your environment and keep your hands on the wheel to be able to react to anything that may happen any time. Drive smoothly, anticipate the need for braking and maintain a longer safety distance, especially in bad weather...
Categories
This system manages the duration of use of certain functions, in order to conserve a sufficient level of charge in the battery with the ignition off.
After switching off the engine, you can still use functions such as the audio and telematic system, the wipers and the dipped beam headlamps or courtesy lamps, for a combined duration of approximately 40 minutes.
Selecting the mode
A confirmation message is displayed when energy economy mode is entered, and the active functions are placed on standby.

If a telephone call is in progress at the time, it will be maintained for around 10 minutes via the audio system's hands-free system.